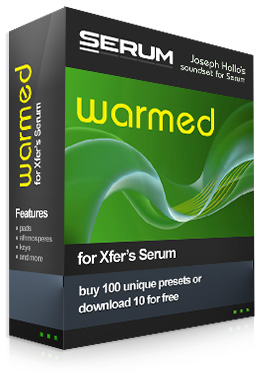 100 presets sound bank
for Xfer Serum

warmed - remarkable presets by Joseph Hollo

100+1 remarkably unique presets by Joseph Hollo for Serum. Yes, there are pads again. Mostly. And atmospheres, keys, leads, sequencers and synthesizers.
The new Serum VSTi inspired Joseph to create a familiar but nonetheless different and up to date sound set. You should listen all the examples, download our 10 free patches to make sure the quality of the sounds.

If you would like to try it, start with downloading the 10 free patches!
If you prefer high quality demos, download our demos in wave format (44.1kHz, 16bits)